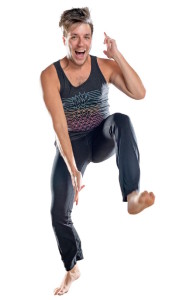 Nia Black Belt • ONLINE Nia Tuesday & Thursday 9am • Friday 7:30am • Saturday Noon

Life As Art.  Dancing through Life.  The Joy of Movement.  These are the concepts that continue to inspire Nia Black Belt teacher, Mark Frossard.  Also a visual artist, Mark was introduced to Nia when commissioned to paint a mural for StudioNia Santa Fe.  Mark timidly stepped into his first class and the inspiration and joy came flooding in!  Mark found that Nia provided the athleticism he was craving, and the enriching of the soul, which was an unexpected discovery.  Somewhere in early adulthood, Mark had lost the playfulness in his dance.  In addition, he had stopped listening to his body and gained over 50lbs.  Nia helped reconnect him to his creativity through movement and become a physically and mentally healthier person.  
Through his Nia practice, Mark strives for balance between mind and spirit, masculine and feminine energies, and harmony between the 9 movement forms.  He infuses each class with his fun and quirky sense of humor.  His classes feature a wide range of musical styles that support the joy of movement for every body!