Creativity, Curiosity, and Consciousness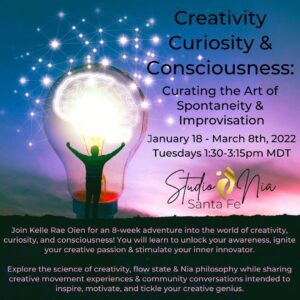 Do you feel stuck or stagnant in your creative process? Do you keep doing the same thing over and over? Having the awareness to break your habits is a powerful tool. How attuned is your awareness? What keeps you in the known and in the safe zone? What do you have inside you that you would like to unlock?
Join Kelle Rae Oien, Nia 2nd Degree Black Belt, Nia Trainer, Choreographer and Studio Owner, for an 8-week adventure into the world of creativity, curiosity, and consciousness! You will learn to unlock your awareness, ignite your creative passion, and stimulate your inner innovator.
This online workshop will explore the science of creativity, flow state, and Nia philosophy while sharing creative movement experiences and community conversations intended to inspire, motivate, and tickle your creative genius.